From crisp autumn days to the sweltering heat of summer, you deserve a sunroom that lets you relax in a peaceful, tranquil atmosphere. Sleek, clean lines; thermally-enhanced performance, and a combination of high-end, raw materials all work together to craft the perfect solution- a cathedral sunroom. Seamless integration with your home's style means that you can add square footage and value without ever having to consider the expense of conventional construction.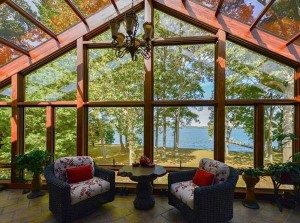 What Is a Cathedral Sunroom?
A cathedral sunroom has a high, vaulted ceiling that fills each room with dynamic and beautiful natural light. Consider the benefits of our beautiful and energy-efficient cathedral sunrooms. Allow sunlight and the lush green of the outdoors to be seen from within your AC-controlled indoor space. The high-quality and durable glass allows for an enhancement to your indoor space by inviting in visually enticing views of your yard. The structure of these sunrooms makes them look beautiful from the inside and from the outside as well. This specific type of sunroom is one of the most architecturally sought after, due to its incredibly grand appeal. Take in the surrounding views of nature—without the influence of the weather or insects—while relaxing comfortably indoors.
Cathedral Sunrooms Come With Customizable Options
Whether you are interested in a glass or covered ceiling, certain colors, or styles, Four Seasons Sunrooms works with you to provide you with a cathedral sunroom that captures your vision for a beautiful home addition. An all ConservaGlass™ NXT front peaked wall, allows more light and greater views while creating a more spacious feel with expanded sightlines to the landscape beyond. Vaulted ceilings deliver an open airy sensation far beyond the actual space it occupies. This is a cathedral room that offers an unbroken panorama of your world while keeping you safe and sound inside.
Let's Start Building Your Dream Cathedral Sunroom
Contact the team at Four Seasons Sunrooms for a free, no-obligation quote on your cathedral sunroom installation. You receive professional installation along with a transferable lifetime warranty. We look forward to working with you!
By clicking here, I consent to Four Seasons Sunrooms or one of its dealers/agents contacting me via call or text at the phone number (including wireless number) or email address I provide to discuss my needs, even if my number is currently listed on any state, federal or internal Do Not Call List. I consent to receive autodialed and/or pre-recorded calls and messages. I understand I do not need to submit this form to get information, but instead can call 631-563-4000. I also understand that Four Seasons Sunrooms collects certain categories of personal information and uses this information in various ways, including order fulfillment and providing product information and service to you. For more information, I may visit Four Seasons Sunrooms Privacy Policy. I may revoke this consent at any time by contacting Four Seasons Sunrooms at 631-563-4000. I understand that all calls are recorded for quality and safety purposes
Flexible Hours
Dedicated to Client Satisfaction
Attention To Detail
24/7 Emergency Services
100% Customer Satisfaction Guarantee
Highest Quality Performance & Service